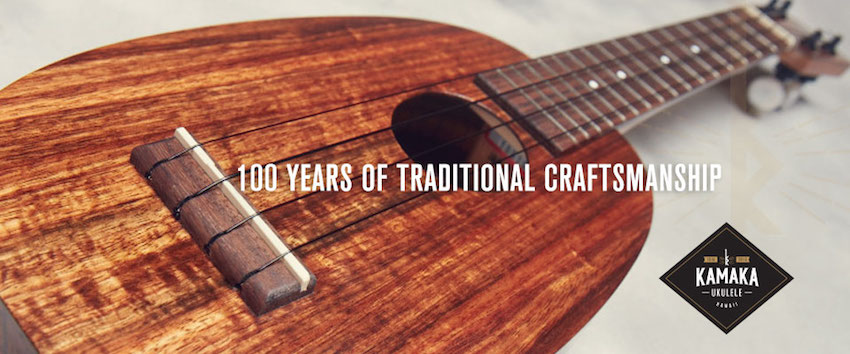 Soprano

- The four string Kamaka Soprano Ukulele has been and will always be the classic vision of what a ukulele is. It's small size corresponds with the many players of yesteryear who made the ukulele so famous. - Overall length: 20-1/8" - Scale length: 13-9/16" - Total # frets: 16
Click Here To View Our Kamaka Soprano Ukulele Inventory
---
Pineapple

- The four string Kamaka Pineapple Ukulele was designed and patented in 1928 by Samuel K. Kamaka. The Pineapple has a unique, oval-shaped body and produces a resonant, mellow sound distinct from the traditional figure-eight. - Overall length: 20-1/8" - Scale length: 13-9/16" - Total # frets: 16
Click Here To View Our Kamaka Pineapple Ukulele Inventory
---
Concert

- The Concert Kamaka Ukulele four string is considered to be the most popular ukulele. Most advanced players choose the concert because of its larger scale over the standard (soprano) size. - Overall length: 23-1/2" - Scale length: 15" - Total # frets: 16
Click Here To View Our Kamaka Concert Ukulele Inventory
---
Tenor

- Every type of player enjoys the Kamaka Tenor Ukulele and it's full-bodied sound. The Koa 4 string Tenor is the most popular among the local island players. - Overall length: 27-1/8" - Scale length: 17" - Total # frets: 18
Click Here To View Our Kamaka Tenor Ukulele Inventory
---
Baritone

- The Kamaka Baritone Ukulele is the most unique in the ukulele family. They carry a 20 1/8 inch scale and follow the same tuning as the first four strings of a guitar. Because of their similarities to the guitar, Baritone ukuleles are very popular with guitar and banjo players. - Overall length: 30-1/2" - Scale length: 20 1/8" - Total # frets: 19
Click Here To View Our Kamaka Baritone Ukulele Inventory
---
Koa Wood

- Koa is unquestionably Hawaii's most prized wood. Hawaiians have always valued Koa for its beauty and durability. Koa still remains the premier Hawaiian timber for Kamaka ukuleles, furniture and other woodcrafts. Its diversity and shortage has created Koa prices to soar. With an ongoing reforestation program, and sensible logging, Koa will always be available. Koa's use for instruments is superb. It has a "tap-tone" quality that is almost second to none.
Humidity & Your Ukulele

- Your ukulele is made of thin wood which is easily affected by temperature and humidity. This combination is the most important single part of your ukulele's surroundings. Martin Guitar keeps their factory at a constant 45-55 percent humidity and 72-77 degrees Fahrenheit. If either humidity or temperature get far away from these factory conditions, your ukulele is in danger. A rapid change in temperature or exposure to cold can cause small cracks in the finish. We recommend the use of a hygrometer / thermometer to measure the relative humidity and temperature surrounding your Kamaka ukulele.
---
Kamaka Ukulele Stand - Fits Soprano, Concert, Tenor & Baritone Ukes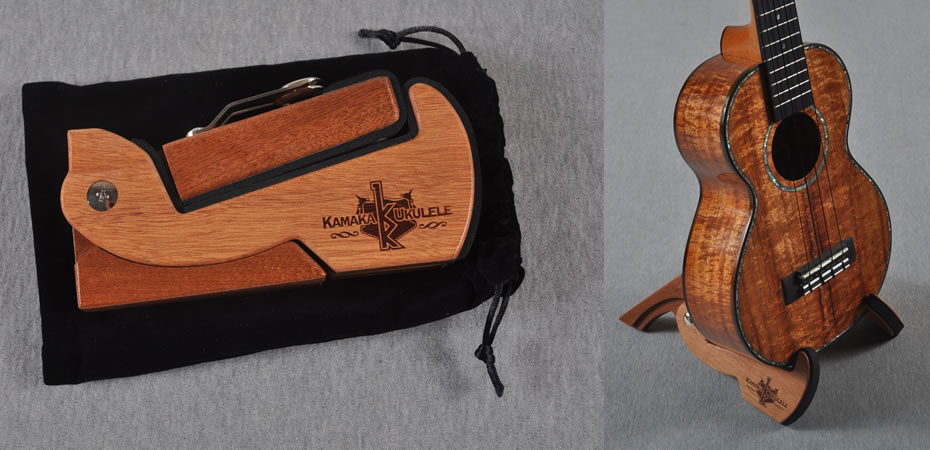 This "Made in USA" Kamaka Compact Ukulele Stand is designed to securely support a Kamaka ukulele in a protected or monitored environment. A perfect choice for home or office.
Kamaka Ukulele Stand Specs -
Click Here