Martin Custom Shop
Mark Rohrer Hand Selects Premium Woods At The Martin Custom Shop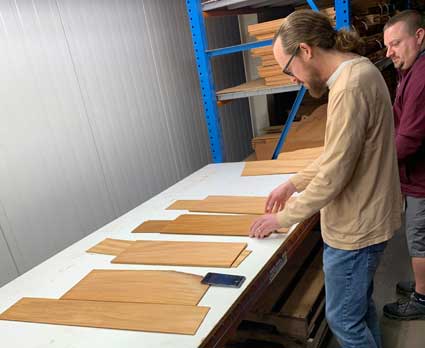 Give Mark a call at (888)795-3582 - he's helped many customers become members of
the "Martin Custom Shop Owner's Club" - and is always happy to talk Martin Custom Shop guitars.
Martin Sinker Mahogany Custom Guitars
The jury is in on Martin Sinker Mahogany guitars, and Sinker is the clear winner. The tonal shift from Honduran to Sinker Mahogany is subtle and very pleasing. The advantages of
Sinker logs come from being submerged under water for such a long time. The wood has changed on a molecular level, but maybe most importantly, it is now very old wood.
Martin Golden Era Custom Guitars
The term Golden Era has several different definitions depending on how the words are used.
Martin Guitars "Golden Era" when used as a period of time, refers to guitars made from 1930's until 1945.
Martin has produced modern guitars with Golden Era in the name. The most common model is the D-18 Golden Era, which is a modern replica of a 1934 D-18. These guitars discontinued and can no longer be ordered.
Martin also uses the term Golden Era for a variation of their Scalloped Bracing. This type of Scalloping is more aggressive compared to a Standard Scallop. With Golden Era Scalloping, there is more wood shaved from the Braces and the X brace is a little tighter fit. This variation of scalloping helps the tone and responsiveness, by letting the top vibrate more freely.
Martin Adirondack Custom Guitars
Martin Guitar used Adirondack Spruce until President Roosevelt started protecting our national forests.
Around 1946 Martin Guitar started building guitars with Sitka Spruce, which is still used today on most of their entire catalog.
In the 1990's, the luthiery community gained access to plantations of Adirondack Spruce.
Martin has used Adirondack on some limited production run models, and uses it on the Authentic (vintage recreations) Series.
But, it is also available to order from the Custom Shop. Adirondack Spruce pairs perfectly with a Martin Guitar because it helps give the instrument a full and rich sound, no matter the body size or style of ornamentation.
Martin 000/OM Custom Guitars
Generally, with a few exceptions, 000 and OM have the same body dimensions but have different scale lengths.
The OM body size will have a long scale (25.4 Dreadnought scale), and 000 will have a short scale (24.9" scale).
The main effect associated with scale length is the string tension. The tension of the strings effects the power and feel of a guitar. For short scale, the top will have slightly less tension and the feel of the strings will be a little easier compared to long scale.
Martin Style 18 Custom Guitars
Guitars found in our Style 18 category are based on the Martin D-18.
Martin Style 28 Custom Guitars
Guitars found in our Style 28 category are based on the Martin D-28 and HD-28.